Over the past several years, Asia Pulp & Paper has engaged in a marketing campaign to represent its operations in Sumatra as socially and environmentally sustainable. APP and its agents maintain that industrial pulp and paper production — as practiced in Sumatra — does not result in deforestation, is carbon neutral, helps protect wildlife, and alleviates poverty [see APP documents]. While a series of analyses and reports have shown most of these assertions to be false, the final claim has largely not been contested. But does conversion of lowland rainforests for pulp and paper really alleviate poverty in Indonesia?
Environmental damage
A number of reports released over the past decade have documented the large-scale conversion of Sumatra's lowland forests for pulp and paper production. Conversion has been driven by several actors, but two firms have accounted for the bulk of the activity: Asia Pacific Resources International Holdings (APRIL) and Asia Pulp & Paper (APP). Both companies have been called out by environmentalists as causing egregious environmental damage, including logging of rainforests, development of carbon-dense peatlands, and road-building in sensitive areas. In APP's case, there have been allegations by Eyes on the Forest that it has engaged in open burning, in violation of Indonesian law and company policy, although it is unclear whether these fires were actually set by the plantation operator or communities surrounding the concession. In either case, such burning contributes to the choking haze that casts a pall over much of Southeast Asia on an increasingly frequent basis.
According to WWF-Indonesia, APP shoulders the brunt of the blame. Together with its suppliers, APP has cleared more than one million hectares of natural forests in Riau and Jambi provinces alone, making it responsible for more forest loss than any other company operating in Sumatra. Today, APP has at least 3.1 million tons of pulp capacity in Central Sumatra, while APRIL has roughly 3.2 million tons of production capacity. While both firms, which together account for about 80 percent of Indonesia's total pulp production, have been feverishly expanding their plantations, both are still heavily dependent on deforestation: as of 2008 more than half their wood fiber came from natural forests. In 2010, the volume of timber sourced from the clearing of Riau's natural forest reached 11.3 million cubic meters, up from 4.9 million cubic meters in 2009, according to Ministry of Forestry data. The sharp increase may be attributable to two factors: a 2008-2009 crackdown by provincial authorities on the use of mixed hardwoods going into pulp and paper mills and last year's announcement of the country-wide moratorium on new concessions in natural forest areas and peatlands. The moratorium led companies to scramble to secure forest land before the two-year ban takes effect later this month.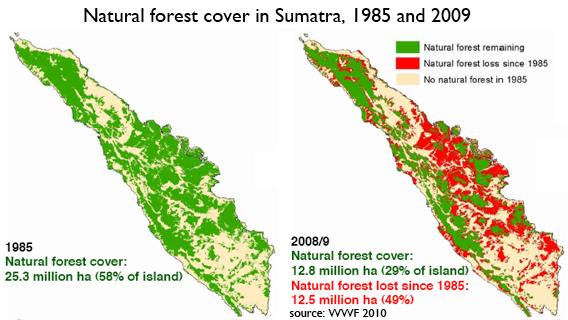 A marketing problem
Laying waste to vast tracts of rainforest and peatlands that store large quantities of carbon and which are home to endangered species like Sumatran tigers, elephants, and orangutans, has given both APP and APRIL an image problem: they are now viewed as toxic brands by several major buyers in the United States and Western Europe. APP has especially suffered, losing Carrefour, Tesco, Kraft, Unisource, Staples, Walmart, Ricoh, Woolworths, Gucci, H&M, and Fuji Xerox, among others, since 2007. It has lost the right to use the FSC eco-certification label on its products. Meanwhile APRIL has been rebuked by the Rainforest Alliance's SmartWood Program, which suspended the company's FSC certification in April 2010. The defections have been painful for both firms, which have gone to great lengths to win back customers.
In APP's case, instead of taking steps to meaningfully address concerns raised by former partners like WWF and the Rainforest Alliance, the paper giant has focused on marketing to rehabilitate its image. In the process, APP has employed ethically questionable tactics, including the use of front groups like the Tea Party-affiliated Consumer Alliance for Global Prosperity and the faux-humanitarian NGO World Growth International to launch public attacks on companies that have dropped its products and environmental organizations that have raised concerns about its environmental conduct. When auditors have presented results it didn't like, APP has hired PR consultants — including ITS Global and Greenspirit — to put their own spin on the conclusions and produce favorable reports passed off as "independent audits." While it remains unclear whether these measures are the brainchild of APP or the PR and lobbying firms it has retained in recent years — including Ogilvy & Mather, Weber Shandwick, Cohn & Wolfe, Clark & Weinstock — the messaging has been consistent: APP claims it is protecting the environment and alleviating poverty in Indonesia.
Helping the poor or helping themselves?
But does tearing down rainforests and draining peatlands for pulp and paper plantations really help lift the rural poor out of poverty?